When Morven Smith marries her fiancé Richard Gray in September at a small ceremony in Perth, Scotland, they will be one of the 86% of UK couples that postponed their weddings to 2021, and like many, their 2021 wedding is going to look a little different.
In the UK, pandemic driven wedding trends include the decline in popularity of Saturday weddings, down to 53% in 2020 from 57% in 2019, no honeymoon for 24% of couples, and intimate weddings taking centre stage, representing 34% of 2020 weddings up from 2% in 2019. The most popular venue to get married in 2020 was a hotel (17%) followed by a registry office (14%) and a vital factor in venue choice was helpful/friendly staff which was important for 44% of couples.
Morven and Richard have been together for almost 17 years and were originally due to get married in 2020. Morven says the pandemic forced them to reconsider their original plans: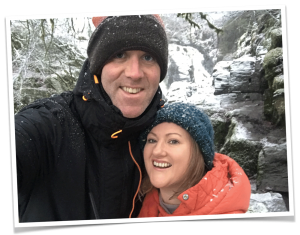 "The past 18 months have made people evaluate what's important to them. For us, the wedding became less about the day and more about spending the time with our nearest and dearest. We knew the wedding would have to be smaller, so we had to sit down and think about who we really needed to be at our wedding. We're now getting married in a small ceremony with 30 of our immediate family and closest friends at a restaurant in George Street in Perth.
Over half of all couples used a gift list for their weddings, with popular choices including The Wedding Shop (28%), John Lewis (27%), Amazon (26%) and a dedicated bank account (21%). Morven and Richard wanted to support local with their wedding gifts, reflecting the national trend towards supporting local businesses, particularly through gift cards.
With 63.8% of respondents to a GCVA report having concerns over buying gift cards for brands that might not be around for long, multi-venue gift cards that can be spent in more than one shop, restaurant or venue have risen in popularity to 40.2% of all gift cards purchased in 2020. The report also found that 41.6% of respondents purchase gift cards to support companies they like. Morven adds:
"When it came to gifts we decided to think differently and prioritise experiences and memories over material items. We still have a small wedding list for those guests who are more traditional and prefer that, but when we sent the invites out we popped information in about Town and City Gift Cards, which are local gift cards that can be purchased for towns and cities and spent with shops, restaurants, hotels, and services."
Sales of Town and City Gift Cards topped £1.9 million in 2020 as people made clear their commitment to support local businesses. There are currently 60 Town and City Gift Card schemes in the UK and Ireland, including 17 in Scotland. A 2021 partnership with the Scottish Government and Scotland's Towns Partnership (STP) will see a Town and City Gift Card for every area of Scotland. Morven adds:
"Perth is our local Town and City Gift Card so the Perth Gift Card is ideal for us, but equally an Edinburgh or Glasgow Gift Card, or something further afield would be just as appreciated. It gives us lots of options. If there are things we need for the house, we can get those or if we want to have a night out, we can do that. We can arrange a weekend away and spend the gift card on a hotel, a lovely meal or a souvenir from that place, and share with the person who bought us the gift card what we spent it on.
"You only have to walk down your local high street to see the impact of the pandemic, with the empty store fronts that used to be restaurants or shops. It has been so difficult for businesses, and for us, our wedding was a chance to support local businesses and have lots of wonderful experiences to look forward to at the same time."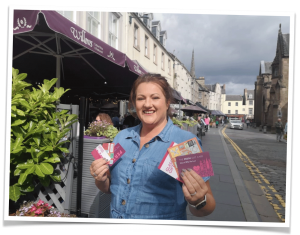 Weddings in Scotland represented 11% of all weddings in 2020, higher than London and the North West (10%), East Midlands and the North East (9%), the East of England (8%), West Midlands (5%), Northern Ireland (3%) and Wales (2%). The greatest number of weddings in 2020 took place in South West England (12%) and South East England (17%).
Scotland also presents one of the areas with the highest percentage of couples who are set to marry with a venue already booked (9%). The average cost of a Scottish wedding in 2020 was £9399 in 2020, with the most cost effective place to get hitched in the UK being the North West at £8965. London was the most expensive at £14296.
For Morven and Richard though, they see their reinvented 2021 wedding as a positive: "Our 2021 wedding is going to be different to what we had planned. It's certainly going to be more intimate, with just our very best friends and family around us, and actually, it's going to reflect more of who we are now rather than a wedding that fits the traditional mould. It's not like either of us are in our 20s and we need all manner of gifts to fill our home, instead, we can look forward to making memories as a newly married couple."
Colin Munro is the managing director of Miconex, the fintech behind the award winning Town and City Gift Card scheme, and says Morven and Richard's wedding gift choice reflects the movement towards local gift cards:
"Over 17% of people said supporting local businesses was a factor in their gift card purchase, but for 25-44 year olds this rose to over a quarter. This age group, in particular, see gift cards as a mutually beneficial means of funding local establishments, and with Town and City Gift Cards there is both choice and security; a huge array of places to spend the local gift card including national brands, small independents, travel agents, activity providers, hotels, plus the security of knowing you're not restricted to one retailer."
To find your perfect wedding gift, browse all our Gift Card programs.